It's another fall season and the fourth year of Windermere's #TackleHomelessness campaign with the Seattle Seahawks. As a part of this campaign, Windermere hosts an annual "We've Got You Covered" winter drive. This year, 33 Windermere offices in in the greater Seattle area* participated in the drive, collecting new hats, scarves, gloves/mittens, socks, and other warm winter items for Mary's Place.  
Mary's Place is a non-profit that provides safe, inclusive shelter and services to support women, children and families on their journey out of homelessness. Since 1999, Mary's Place has helped hundreds of women and families move out of homelessness into more stable situations. But shelter capacity is limited and there are still hundreds of families sleeping outside in cars and tents each night, so Windermere collected items to help them stay warm this winter.
During the four-week drive, our offices collected donations from agents, staff, and the community, which included over 630 hats, 680 pairs of gloves, over 200 scarves, over 2,000 pairs of socks, and an assortment of coats, jackets, sweaters, blankets, toiletries and other items, bringing our grand total to nearly 6,000 items collected for Mary's Place.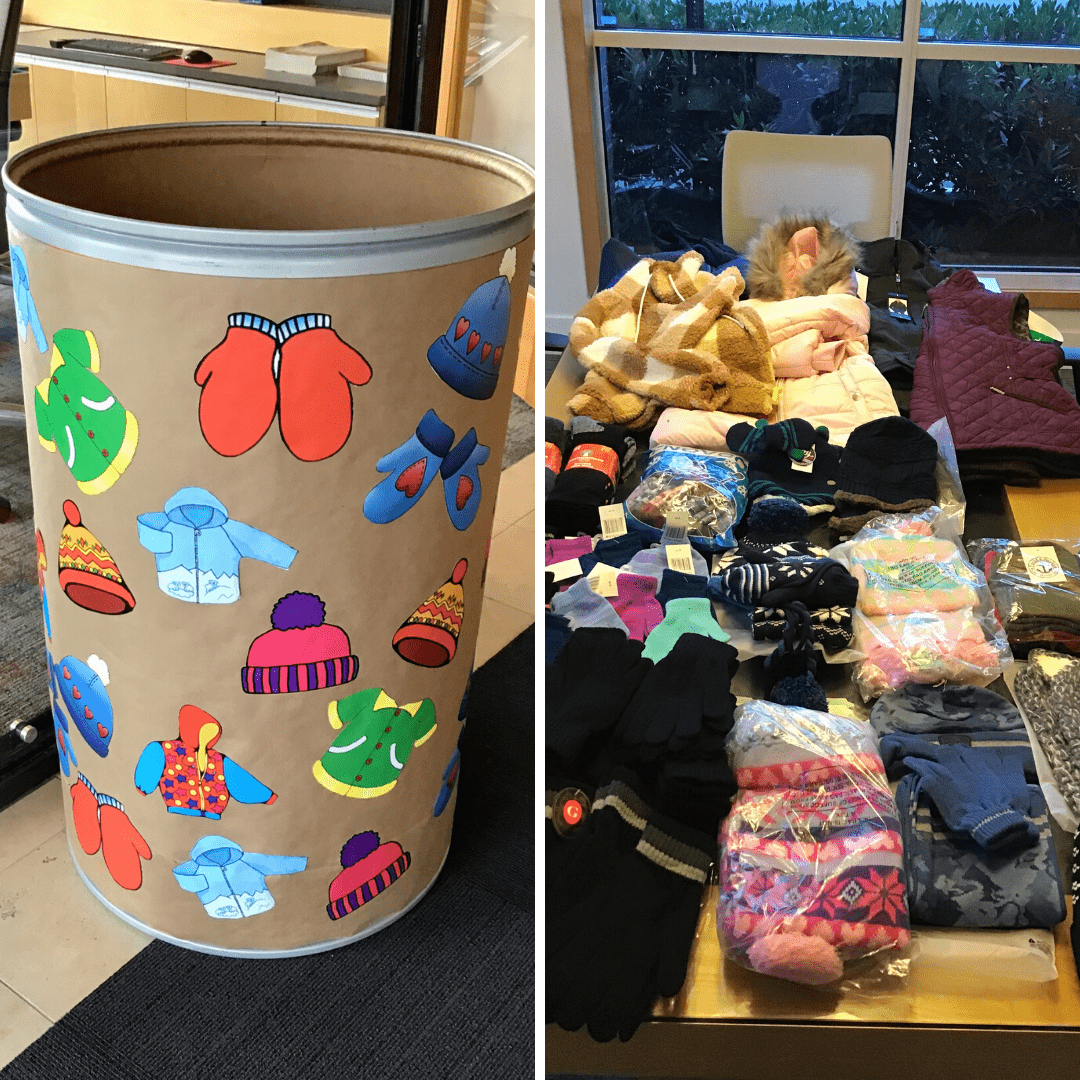 The staff at the Mary's Place donation center in South Seattle were grateful to receive the bins full of donated items that were delivered by Gentle Giant Moving Company. "We are so incredibly grateful to our Windermere family for all that they do for our families!" said Marty Hartman, Mary's Place Executive Director. "These gifts of warm winter gear will keep our kids and families warm and loved this winter!"
Windermere is also grateful to partner with Gentle Giant Moving Company on our winter drive. For the past four years, they have generously given their time, muscle, and trucks to pick up and deliver all of the donations.
And this drive would not be possible each year without the support of the Seattle Seahawks, our offices, and all those who donated. From all of us at Windermere, thank you for making our fourth annual winter drive a success and for supporting families experiencing homelessness in the greater Seattle area!
*Participating Windermere offices:
Bellevue, Bellevue Commons, Bellevue West, Federal Way, Federal Way-West Campus, Kent, Kirkland, Kirkland Yarrow Bay, Lynnwood, Mercer Island, Mill Creek, Property Management – Bellevue, Property Management – Edmonds, Property Management-Everett, Property Management – Seattle North, Property Management – South, Redmond, Seattle-Eastlake, Seattle-Green Lake, Seattle-Greenwood, Seattle-Lakeview, Seattle-Madison Park, Seattle-Mount Baker, Seattle-Northgate, Seattle-Northwest, Seattle-Pike/Pine, Seattle-Queen Anne, Seattle-Sand Point, Seattle-Wall Street, Seattle-West Seattle, Services Company, Shoreline, Snohomish